Retail Success Celebrates Ribbon Cutting with Open House to Reveal New Headquarters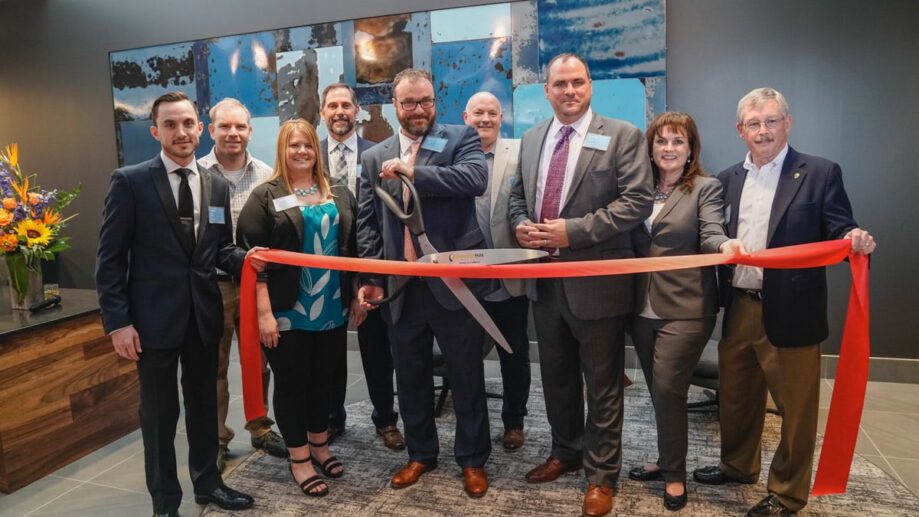 Thursday, April 12, 2018 — Retail Success LLC, a Kansas City-based software and technology company, today celebrated the completion of their state-of-the-art headquarters located in Overland Park, Kan., with a ribbon cutting and reception.
The new, 22,000 square foot headquarters for Retail Success, located at 11230 College Blvd., has been designed to increase efficiency for all departments by creating an open plan work environment. The building features an industrial modern design with a reception area, executive suite, variety of closed conference rooms, community teaming areas, spacious offices and modular workstations for employees, fitness center, mother's room, training facility, and multi-service employee break area.
"We've outfitted the building with the latest audiovisual technology to foster creativity and innovation," said Scott Christensen, Chief Technology Officer at Retail Success. "We set out to create a space that competes with the best software shops in town. With the technology we have in the building, the fitness center, the cafe serving fresh, premium coffee, and a tap serving local beer for afternoon celebrations, we now have the space that matches our culture".
In February 2018, Retail Success was awarded The NOVA Award by the Overland Park Chamber of Commerce—a recognition given out each year to three young, fast-growing companies. The company has had positive growth numbers since 2015, with a staff increase of more than 30 percent in 2017 and nearly 20 percent already in the first quarter of 2018.
"We're growing quickly and we attribute this directly to our emphasis on quality customer service and dynamic business relationships," said Shannon Maher, Chief Operating Officer and co-owner of Retail Success. "Our new space is now more than capable of handling that growth – with room to expand even further in the future."
Much of the recent success can be associated with the development of the company's latest retail technology, called Luci. Luci is a fully customizable software solution for direct sales organizations that reduces administrative burdens, provides valuable insights, and empowers their sales teams.
"This is an exciting time for our company," said Scott Maher, Chief Executive Officer and co-owner of Retail Success. "We are celebrating so much more than just a building—we're creating a culture and identity for our staff with a space that encourages partnership throughout our ecosystem which leads to the absolute best software solutions for our customers and partners."
ABOUT RETAIL SUCCESS
Retail Success, LLC, based in the Greater Kansas City area, is advancing retail through technology and innovation. A software development company, Retail Success, provides solutions for direct sales organizations, point of sale software, merchant services, payment processing, and retail marketing. For more information, visit our website at www.retailsuccess.com.