Benefits & Perks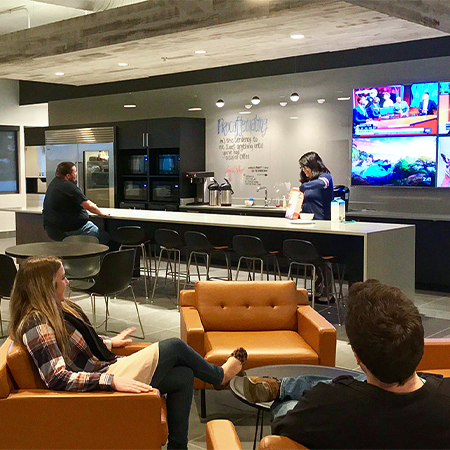 Keeping up with an ever-evolving—and competitive—marketplace isn't always easy, but it definitely keeps us moving forward as an innovative and employee-focused operation. It's our goal to provide employees a great place to work, and that means offering more than just the basics. And we know that we aren't the first company to try to woo you with "free beer," but hey, did we mention we have craft beer on tap?
"Work is a huge piece of your life—you spend eight hours a day, five days a week at your job. Retail Success is a company that makes work feel like more than just a 'job,' and that's rare. Does that sound cheesy? Maybe, but it's true—they've built something special here and I'm proud to be a part of it."

– Lisa Scheck
Casual Dress
Dress code? More like a "dress for your day" code. Which essentially means that we empower our employees to choose what they wear each day based on their schedule and activities. For most of our employees, it's a casual lineup of jeans and tees.
Company Apparel
Our company brands are attractive, defined, and gosh darn it—we like them. That's just one of the reasons we provide product credits on a quarterly basis for eligible employees to use on branded, company apparel. Shop from t-shirts, jackets, bags, hats, and more—you can browse our vendor's online catalog to select your own Retail Success branded products.
Career Path
As a growing fin-tech company, we understand technology needs a defined roadmap for continued success. And much like our products, our employees remain encouraged by our clear commitment to their professional development. We have created an individualized review process that focuses heavily on career growth and aspirations. Our culture prioritizes promoting from within the company, as seen with many members of our leadership team.
Healthcare Coverage
Healthcare is important, we get it. That's why we offer all full-time employees a competitive healthcare package, including health, dental, and vision plans for you and your family. Retail Success even pays 100% of a life insurance policy for eligible employees as well as 100% of the premium for both short and long term disability coverage.
Wellness Program
At Retail Success, we value the well-being of our employees and have implemented several voluntary wellness programs and challenges. The program's mission is aimed at empowering our team members to take control of their health through regular physical activity, nutrition, education, and friendly inter-office competitions.
Fitness Center
Physical fitness can have a direct impact on job performance and regular exercise has been shown to keep employees motivated, energetic, and happy when they're at work. Our on-site fitness center is available to all employees—providing a space to encourage an area of positive well-being and decreased stress.
Paid Time Off & Holidays
Everyone deserves a break now and again, so we've built a competitive paid time off plan for all full-time employees, including most major holidays.
401k Matching
Our 401k plan is above the fintech industry median along with our Safe Harbor matching contribution, meaning that team members are 100% vested in the match following the eligibility term of six months.